Firefly Comeback Champs kicks off in Tenby – Runners and Riders
by Fi Edwards 6 Aug 09:08 PDT
6-12 August 2022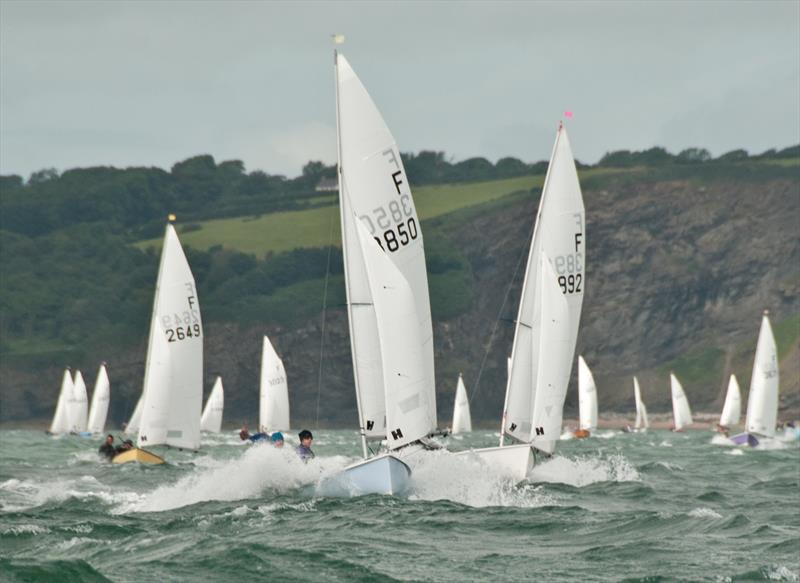 A wild start to the 70th Anniversary Firefly Nationals © Alistair Mackay

The boats are on their way, the beer is cold and racing for the Firefly National Championship in Tenby will kick off tomorrow, August 7th until 12th. Having missed the last two runs due to the pandemic, excitement for this year's Comeback Championship is at a fever pitch!
Despite an unholy trinity of pressures – an epidemic of delayed weddings, the cost of living crisis and Covid putting the squeeze on University Sailing Club finances leading to the lowest student turnout in years – 43 boats are due to make the trek to Tenby.
The entry list is packed with big names and previous champions, promising six days of razor close racing. So, without further ado, let's count down our top twelve contenders to take this year's title:

1. Stuart "The Hud" and Robbie "SonofHud" Hudson
Arguably the Firefly class GOAT, the Hud has dominated the Firefly Class for the last few years and is both defending champion (sailing with Emily Walters) and the winner last time we sailed in Tenby (sailing with Jane Hudson). This Hud&Son pairing have proven themselves quickly with several open wins and a nail biting victory by just centimeters at the South Westerns this year and are probably the hot favorites to clinch the Champs.

2. Paul "PK" Kameen and Evie Snedker
PK already has two National titles (sailing with Laura Kameen) and Evie is, without argument, one of the best crews in the fleet. Blistering speed has taken this duo to back-to-back Inlands wins – can they add the Nationals to their tally in Tenby – we wouldn't count it out!

3. Chris "CK" Kameen and Jenny Johnson
The proverbial bridesmaid, CK is haunted by being the only member of his university racing team never to have lifted the Sir Richard Fairey points cup (actually they've all lifted it more than once, sorry Chris!) Since teaming up with ex- British Sailing Team supercrew Jenny in 2018 he's been tantalizingly close but hasn't quite been able to snatch that elusive victory. With light conditions suiting their style, could 2022 finally be the year?

4. Nigel Wakefield and Emily Saunderson
With multiple Nationals, Inlands and South Westerns titles under their belt this pair has serious form. They also have something to prove after just losing out on the South Westerns earlier this year. This is the second event on the bounce for Nigel who was crewing for his sister at the Merlins last week, earning himself a stunning second in one race. Nigel and Emily have historically been strongest in the mid-range so the light forecast might count against them but if they can show the same pace they showed in the zephyrs in Restronguet they'll be hard to beat.

5. Guy "Notorious OAP" Davison and Emma Hartley
No list of runners and riders for the Fireflies would be complete without the Notorious OAP, 2018 Champion Guy Davison. Since retiring this wiley old goat has embraced his main character energy and taken major championship wins in a range of conditions with a variety of crews. With lots of sunshine in the forecast it has been suggested that he could use his extremely shiny head to distract the competition. We don't know about that, we do know they're a strong contender.

6. Jono Pank and crew
Every good comeback story needs a setback. Jono devastatingly missed out on the title in 2019 (sailing with Helena Lucas) after brushing the gate boat in the final race. Jono's just had a week on dad duty watching sailing at the Oppi Champs in Largs so will be eager to get out there. His cerebral sailing style suits the light conditions we're expecting in the front half of the week. He was entered with Helena again this year but rumor has it that he is sailing with one of his ex-university teammates. Either way he'll be quick.

7. Dom and Issy Johnson
Winners of the Chichester Harbor Race Week Firefly class last year and third at the South Westerns. This father-and-daughter duo are not to be overlooked. This pair has always had speed but since taking possession of their new rocketship F3152 'Gemini Too' they've found another level. This is the boat to watch if you want to see some absolutely insane jibstick skills!

8. Steve Tylcoate and Alice Lucy
Team racing god Steve loves Tenby and has performed well here in the past. He couldn't make 2016 due to his son's devastating cancer diagnosis but he's back with a bang this year, making a fresh bid for the title. More of an outside shot but expect to see this Rutland pair near the front – if you can see past the Tylcoate army of boats that is!

9. Jamie and Angus McEwen
The dirtiest boat in the fleet! This dad and lad duo are always around the front but have yet to take a title. Fresh from exploits in Garda with the IOCA UK GBR Development Team Angus is on top form whilst Dad Jamie has been spotted out on Monday nights in Lymington for some cheeky training. An outside bet but, if things go their way, definitely capable of putting up a good fight.

10. Alex Baxter and Joe Scarborough
Alex (sailing with Ella Vincent) put in masterful performances in Lyme in 2019 to take the final step on the Firefly rostrum. Joe's performance has been more notable in the bar where his dedication to the lash is legendary although he has made the Marlow Cup podium consistently for the last few years. Hailing from West Ox, both are light wind masters which could give them an advantage in the first half of the week. If things go their way this student pair could surprise us all.

11. Ed Smith and Izzy Bretherton
Ed and Izzy have a habit of putting together strong and consistent series's. Don't be surprised if they pop out in the top five towards the end of the week. Unlikely to lift the trophy but very likely to give it a good go!

12. James Hammett and Tiger Tellwright
Newcomers to the fleet as part of a large Exeter University contingent. James has shown pace in other classes winning the 29er Class at the Youth Worlds and achieving some impressive results in the RS200. He was the captain of the powerhouse Exeter Blue squad that won BUSA finals this year. Crew Tiger has years of experience in front of a Firefly from Winchester College, culminating in having crewed Chris James to 3rd in the Firefly Class at the BUSA Fleets back in November. They have the potential to cause an upset – if they survive Crews Union that is!
Of course it wouldn't be a Firefly Nationals without the class's often imitated, never equaled social program. With two years of pent-up partying to be released, long-suffering Nationals organizer Chief has arranged a packed week featuring local bands, lots of free food, Ronstan Buddies and the infamous Firefly fancy dress party (theme this year Downing Street Party). Expect shenanigans aplenty in the daily Duckhams (live on Facebook every evening).
If you're experiencing Firefly FOMO you can keep up with the Champs in our daily reports or on our social media.
.